Order online to have Tikiz Shaved Ice and Ice Cream delivered to your home or office. If you are looking for a tropical get away or that perfect sweet treat to brighten up your day, order online now.
---
---
Is Tikiz Right for you and your organization?
Do you need to raise funds for your school?
Do you need to raise funds for your Church or nonprofit?
Do you need to treat your employees and customers to show your appreciation?
---
---
Join the fastest growing franchise in America!
Are you looking to take control of your future?
Are you looking for a fun excited new career opportunity?
Do you want to be paid for your efforts?
Do you enjoy giving back to your community?
Tikiz Shaved Ice and Ice Cream is the answer! Tikiz specializes in bringing sweets to the streets. The Tikiz Mobile Business offers more flexibility and allows you to 'go where the crowds are:' residential locations, carnivals, fairs, festivals and special events including parades and parties. All of these locations are great at providing a captive customer base. Territories are limited click below to get more information.
---
---
The Tikiz Truck
The Tikiz Shave Ice and Ice Cream Truck was
designed from the ground up to be a
one-of-a-kind experience. Throughout
its conceptual development, no
limits were placed on the custom
components and features that would
ensure its ultimate appeal to customers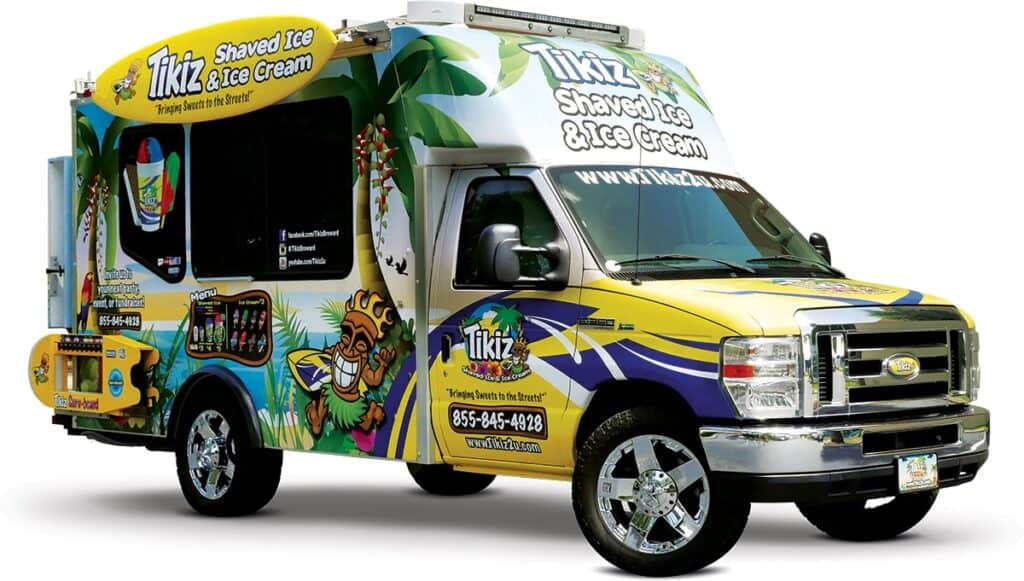 Key Features
Brand New Fuel Efficient Ford heavy-duty chassis and custom-built truck body.· Patented 'Surv-Board', where customers can dispense their own fruit syrup creations.
A highly visible, Hawaiian beach-themed vehicle wrap.· Real custom surfboard signage with multiple water misters at both ends.
No generators – everything runs from the high output batteries that charge overnight or from the truck's alternators.
Top-of-the-line high output ice shaver that can produce up to 400 shaved ice within an hour.· Custom-built, stainless steel and aluminum cabinets, quality refrigeration equipment, advanced electronic gauges, self-contained water system and more.
Aftermarket custom 20″ chrome wheels with specialty all terrain tires.
Inviting tropical steel drum music playing on high end exterior Bose® speakers.
Custom HID headlight bulbs, siren-style LED strobe lights and revolving neon colored lights under the truck to bring major attention to the vehicle at night and in low light areas.
Tikiz Is Perfect for the Following
Fair & Festivals, Flea Markets, Schools, Churches, Fundraisers, After School Programs, Daycares, Campgrounds, Zoos, Sporting Events, and Much More.