Coffee Mobile Business for Sale-Tikiz Shaved Ice and Ice Cream
Coffee Mobile Business for Sale. Tikiz Shaved Ice and Ice Cream launched a new addition to the franchise. Now you can sale coffee, tea, and hot cocoa with a Tikiz franchise. Tikiz custom coffee and hot cocoa system is a great source of revenue for franchisees with little extra cost.
Tikiz Shaved Ice and Ice Cream trailer is another step forward in growing the Tikiz Brand. Now a Franchisee can add a trailer with the tikiz truck virtually doubling their business.
Tikiz is the fastest growing mobile franchise in the US. Location are going fast visit it us today at http://www.tikizfranchising.com to reserve your spot.
Sell More In a Day With Ice Cream
Tikiz Shaved Ice and Ice cream has more than just shaved ice. Tikiz from the beginning decided to give their franchisee's more. Compared to Kona Ice, if a franchisee choose to sell the ice cream on their truck it is an extra cost. Tikiz made it part of the model from the begging. Kona Vs Tikiz Investment Cost Comparison
Tikiz saw the value in the ice cream buy adding quick and easy variety and sales. The average Kona truck has more flavors of shaved ice but less variety on the truck.
Let me explain, Just by Tikiz adding the Ice cream they gave customers 9 distinctive choices. If a Tikiz truck visited a school 9 times per year a customer could get something different every visit.
What about the kids that do not like shaved ice, what about the teachers that are tired of shaved ice. Ice cream adds many different options for a Tikiz Franchisee.
Sell More In a Day With Coffee, Tea, and Cocoa
Tikiz has an option that allows a franchisee to add their hot package. The Hot Package consist of; coffee, tea, and Cocoa. The hot option is a great option.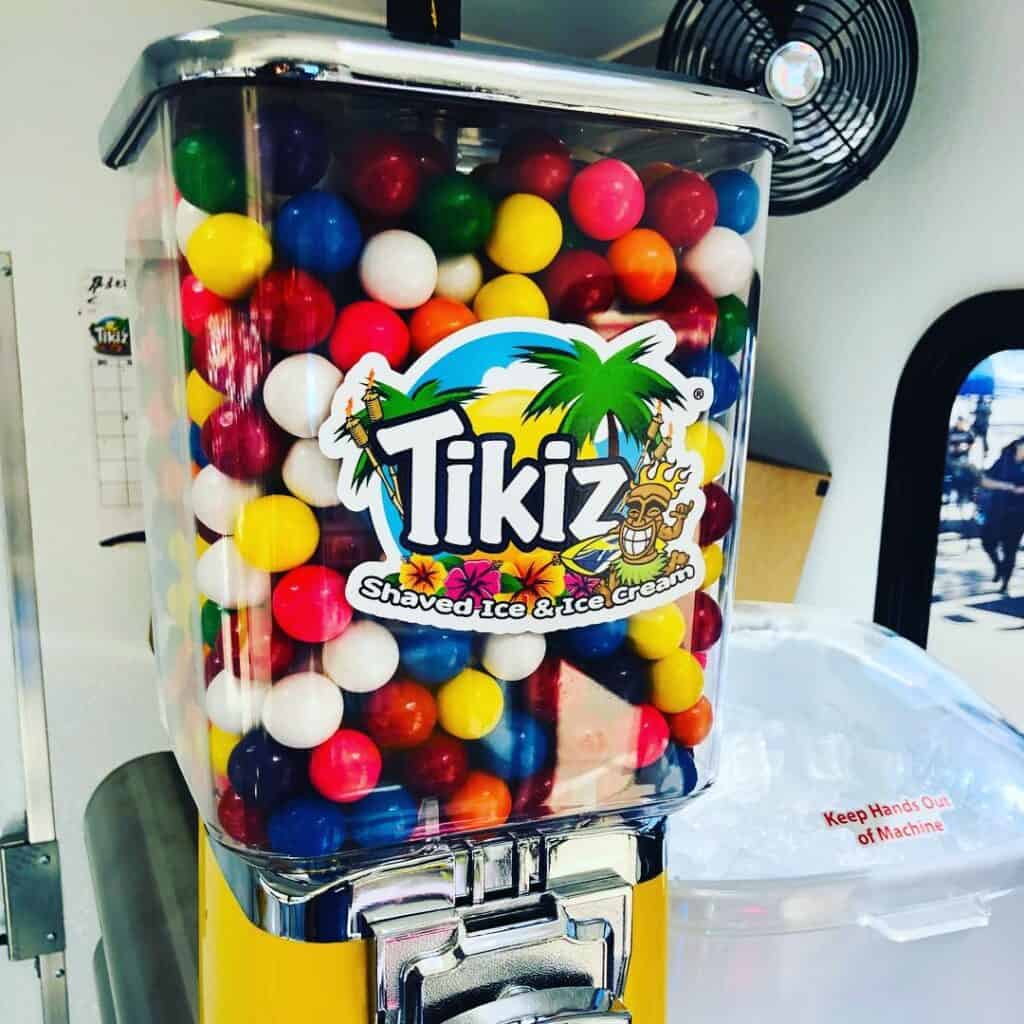 Imagine the Tikiz Truck and and event on a spring or fall day. The morning and evening temperature is 55 degrees. The mid day temperature will warm to 73 degrees. Most events require that a food vender be set up prior to the event opening. They due this mainly for insurance reasons.
Customers do not search for shaved ice or ice cream in the early morning hours. A Tikiz truck or Kona Ice truck will not get busy until two things happen. First is the right time of day. Most parents do not let kids get sweets early in the AM. or later in the evening before dinner or bedtime. (Learn Why you should be the next owner of a Tikiz Ice cream Truck)
The second thing that has to happen is the temperature has to be right. A good rule of thumb is if it is 60 and sunny the Tikiz Truck will make money.
So what is a shaved ice or ice cream truck to do in the AM or PM? By adding the hot option the Tikiz Franchise has the ability too, in those cool fall and spring mornings and evenings, maximize sales revenue. Compared to other deseret food trucks coffee changes the game for a Tikiz Truck. A Tikiz Truck is like having three business in one.
Shaved Ice
Ice Cream
Coffee, Tea, Hot Cocoa
Sell More in A Day With Healthier Option
It is no secret that eating shaved ice and ice cream in large amounts could not be the healthies choice. Tikiz slogan is "Bringing Sweets To The Streets". But the it is meant as a treat not a staple. Coffee has many benefits over shaved ice and ice cream.
Many fitness trainers recommend black coffee in the the morning. Black coffee has 1 to 3 calories, stimulates your digestive system, and has caffeine. These are all benefits to getting your systems working in the morning.
A Tikiz Shaved Ice and Ice Cream Truck has the ability to provide that healthier option. That option allows a Tikiz Truck to bring in a different customer that might not visit the truck. The Hot package is a great option for the Tikiz Truck and the owner of the truck. Just think of the cash they will save by owing their own coffee shop.
Conclusion
The Tikiz Shaved Ice and Ice cream franchise model has more opportunities for revenue than its closest competitor Kona Ice. Tikiz comes standard the ice cream most Kona truck do not. Tikiz has the option to add coffee, tea, and cocoa to the truck for little extra cost.
The average current cost of the system is under $20,000. To add an entire business within and existing business is for that little cost is rarely seen. Why settle for less. In a world of excess and easy to get items. It only make sense to have extra options for the customer. Besides where there are kids there are adults. Kids and Adults do prefer different things.
To learn more on how to get a Tikiz Franchise with the Coffee package click here.
More Related Links
Learn Why you should be the next owner of a Tikiz Ice cream Truck
Why you should invest in a Tikiz Franchise
Large Family Runs Small Mobile Business
What Does A Tikiz Shaved Ice & Ice Cream Franchise Cost?
What you Need to get Started With your own Tikiz Truck
Large Family runs small mobile business
Kona Vs Tikiz Investment Cost Comparison
Recent Posts