Why you should be the next owner of a Tikiz ice cream truck
There are a ton of reasons you should be the next owner of a Tikiz ice cream truck.
First, as the new owner, you'll be helping revitalize America's favorite frozen dessert and what better way to do that than with an edible ride-on toy!

Secondly, it's been proven that ice cream is one of those things people spend more money on when they can eat it while riding on a toy.
Thirdly, You don't even have to mess with all the complicated stuff like "taxes" or "profit." The company takes care of all your troubles.
We hope after reading this information, there is no doubt in your mind about why you should be who owns a rising star in mobile desserts franchises.
The Recipe for the Success
Chances are you've seen the Tikiz vans rolling around your city. They're not just any old ice cream truck; they have a distinctively designed and colorful van that can easily be identified on every corner of town.
The winning recipe for success in this industry starts with four key ingredients: an eye-catching vending vehicle to stand out from other cars and attract customers, popular product offerings, high-profit margin products (like Hawaiian Shaved Ice), and a delivery system that allows operators to go through their customer's quickly, maximizing productivity.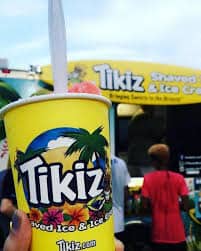 Tikiz is a mobile business that offers more flexibility and allows you to 'go where the crowds are:' residential locations, carnivals, or fairs. The company also has other unique event opportunities, including parades and parties.
You can sell at Fairs and Festivals, Waterparks, flea markets, camping grounds, schools, historical landmarks, churches.
The list goes on. How about festivals and parks in tourist areas or those near beaches. Your business could be at an event that someone would have with their kids (such as birthday parties) where you might offer some entertainment too, like bubbles or face painting, along with playing games together while waiting for food.
Franchise Marketing Support
Tikiz helps you connect with your customers and build a loyal following by providing branded promotional products. You can also create custom marketing materials that speak directly to the people who want what they have.
Online ordering for Tikiz Branded Promotional Products like event flyers, brochures, business cards, or giveaways items – all available in downloadable templates, so creating an advertisement takes as few steps as possible.
Tikipz's online store has everything someone needs to run their franchise operation from apparel and accessories to printing services such as letterhead designs that are perfect if one wants their company logo showcased on every piece of paper going out.
The Tikiz total investment ranges between $132,500 and $146,000 ($20K franchise fee included). The business comes fully equipped with everything needed to launch your new company, including trucks, equipment supplies & docking station essentials. There is also the option for loans from third-party banks if you need them.
Building a retail store is no easy task. It's time-consuming and stressful, leading to paralyzing surprise costs or construction that takes months instead of weeks.
The Tikiz Business Model rolls around, so you never have an investment hang over your head. At the same time, we wait for customers – go where they are already congregating at their nearest location.
Going to where the people are is what this company does. They have an unlimited number of customers.
Tikiz Truck is the perfect answer for anyone who needs to stay productive and on top of their game. You can create your schedule that works best with family obligations or personal time constraints with flexible hours.
Services Include in the Franchise
The Tikiz franchise system includes various services to help you start, operate, and promote your business. These include brand name identity protection with trademark registration for logos; superior operating systems designed by professionals in the field who have years' worth of experience using them themselves first hand.
You'll also receive marketing materials such as printed material (magazines), ads online through Google Adwords.
This will bring customers right into stores near where they live–or wherever is most convenient for them.
Tikiz is committed to providing the best possible experience for its franchisees. They offer ongoing support, including training, contracts with suppliers of goods and services for volume purchasing, as well as corporate updates on how they can make you more profitable in your business.
Tikiz offers many resources that will help owners operate effectively while still being able to provide them all these benefits ̵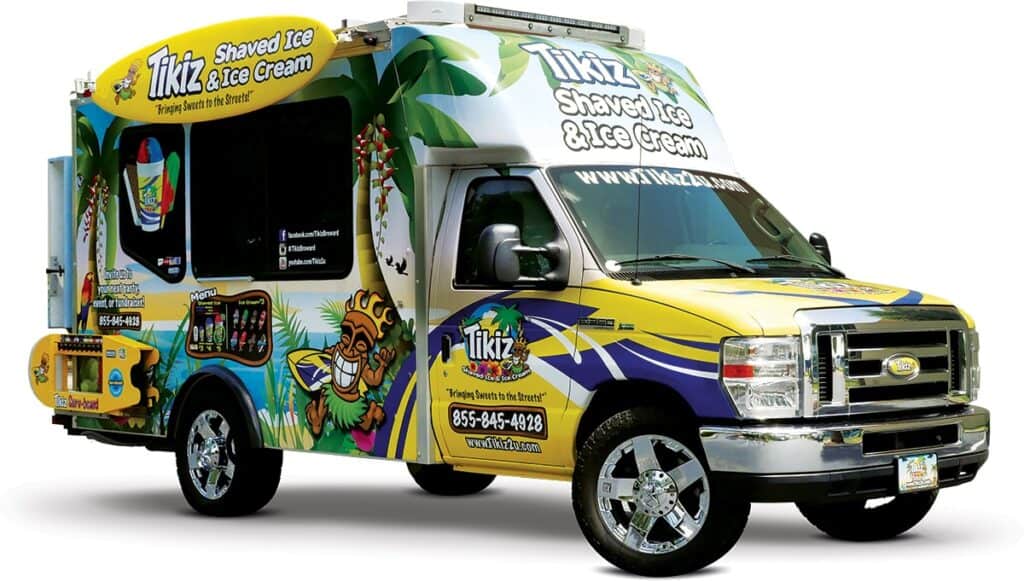 The Tikiz Shaved Ice and Ice Cream Truck is a one-of-a-kind experience. Its custom components ensure that it stands out from the competition, making customers want more.
The Tikiz Truck is a unique vehicle that features the latest technology in fuel efficiency, combined with an eye-catching Hawaiian beach theme. It's also environmentally friendly.
Tikiz Truck's high output ice shaver produces up to 400 shaved pieces of ice in just one hour. In addition, the Truck features a custom-built Ford chassis and body with patented 'Surv-Board' where customers can dispense their fruit syrup creations.
The Truck is custom-built, stainless steel, and it has an aluminum mobile kitchen that will captivate your guests with its cutting-edge features. With quality refrigeration equipment for the freshest food possible, to keep them coming back again and again.
The 20″ chrome wheels are sure not only make any journey fun but also transform it into an experience like no other; especially when you're driving through low light areas or at night where our LED strobe lights under this vehicle provide illumination in all shades of neon color imaginable while surrounding yourself by soothing sound from high-end Bose® speakers.
Does your appetite know no bounds? You'll be able to feed the masses with a single franchise agreement, which comes complete with 200k in population based on zip codes.
Links
Learn Why you should be the next owner of a Tikiz Ice cream Truck
Why you should invest in a Tikiz Franchise
Large Family Runs Small Mobile Business
Recent Posts